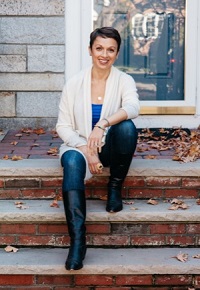 Nataly Kogan is a former VC and the founder of Happier, a global technology and learning platform helping individuals and organizations to to realize full potential by adopting scientifically-proven practices that improve their well-being.
Nataly Kogan is on a mission to make millions of people happier by getting them to stop saying "I'll be happier when…" and start thinking "I am happier now because…."
"Life isn't always good, and it can throw you lots of really bad days," Kogan says. "With Happier, we've created this emotional space that allows you to elevate really small but really good things, which would otherwise just be routine. Doing that repeatedly has been scientifically proven to makes you happier, and if you do it consistently, you can actually change the chemistry of your brain to be more positive."
Nataly is a leading expert on how people and organizations can transform their individual and team culture so that they can thrive.  Having helped more than a million people and employees dramatically improve their emotional health and resilience by cultivating her Five Core Happier Skills, Nataly demonstrates that happiness is not just a feeling, but a skill that can be learned and improved through practice, and that in turn boosts creativity, productivity and profits.
Biography
Nataly Kogan is a former VC and the founder of Happier, a global technology and learning platform helping individuals and organizations to to realize full potential by adopting scientifically-proven practices that improve their well-being.
From her teenage years as a Russian refugee learning English in the projects outside of Detroit, to becoming a leading venture capitalist in a predominantly male industry while still in her twenties, Nataly has continually achieved at the highest of levels.
She has held top positions at Manhattan-based firms McKinsey and Co. and Hudson Ventures, served as the only female board member at Constant Contact, worked at Microsoft's state-of-the-art Future of Social Experiences Lab (FUSE), and served as Vice President of Consumer Experience at WHERE, which she helped sell to PayPal in 2011.
Despite a lifetime of accomplishments, Nataly found herself vastly unfulfilled. Initially a skeptic of the research related to the positive effects of gratitude, kindness and mindfulness on our daily lives, Nataly decided to incorporate happiness into her own life—solely in order to prove the research wrong.
But the more she applied these techniques, the more she immersed herself in and embraced the science and research—experiencing firsthand how effective happiness can be as a tool for realizing full potential in all aspects of work and life.
Rather than chasing "The Big Happy" of career, money and achievements, Nataly soon decided to dedicate her life to discovering and sharing the tools and best practices required to reframe the concept of "I'll be happy when…" to the more powerful "I'm happier now because…"
With this mission in mind, Nataly launched Happier to an overwhelming global response and has since built a community that has shared over six million happy moments (and counting) on the Happier mobile application and website.
Since launching Happier, Nataly has been featured in the New York Times, The Wall Street Journal, Fortune, New York Magazine and Time Magazine, and has appeared as an expert on Dr. Oz, Bloomberg TV, and "One World" with Deepak Chopra.
She is a sought-out keynote speaker, having appeared at events that include at Million Dollar Roundtable, Fortune's Tech Brainstorm, Blogher, SXSW, the 92nd St. Y, Harvard Women's Leadership Conference, TEDx Boston, and many more.
Nataly lives in Boston with her husband and daughter. When she isn't running Happier, she can be found painting in her art studio, doing creative projects with her daughter, deepening her practice of yoga and meditation, or cooking up feasts for her family and friends – all of which bring her a lot of joy.
Speech Topics
Happier Now: How to stop Chasing Perfection and Embrace Every Day Moments (Even the Difficult Ones)
In a speech that is as informative as it is inspiring, Nataly teaches her audiences that becoming happier is a skill and just like other skills, we can improve it through practice. She shares her Five Core Practices and the science behind them to help audience members build their happier skills and come away with a personal set of daily anchors—small steps they can take every day to experience more joy and greater resilience.
Happier Work: Unlocking the Strategies for a Workplace that Thrives
Nataly shares techniques to help employees improve their emotional health, increase resilience, and fuel positive energy and the sense of meaning they find through their work. Highlighting the data-driven research that reveals how employee well-being contributes to an organization's bottom-line, Nataly illuminates how happier employees make for more innovative, productive and profitable workplaces, and how organizations can put into place practices that allow employees and teams to thrive.
Women at Work: Fire Up the Awesome and Unlock Your True Potential
In the wake of #MeToo and #TimesUp, Nataly sheds light on what it takes to build equitable, inclusive work environments where every voice is heard and every person empowered to succeed. In offering frank stories and paradigm shifts in thinking, she reveals practical strategies to help women cultivate a personal sense of well-being and insights into transforming workplace culture. Nataly shows that by connecting to their best self, leaning into fear, and dealing with bias, women can unlock more of their potential to thrive in today's workplace.
Moving Through Fear: How to Connect to Your Bigger Why So You Can Boost Creativity
Nataly empowers her audience to stop trying to be fearless, but rather learn how to remove fear as an obstacle and to find a sense of meaning and purpose, unleashing their creativity in the process. Delivering both actionable advice and eye-opening motivation, Nataly leaves audiences emboldened and prepared to tackle any challenge.
Improving Happiness, and the Bottom Line
Our always-on work environments are making us less productive, less creative, and generally unhappy regardless of our chosen careers. A recent Gallop study shows that when an employee reports increased feelings of well-being, it is 20% more likely that the employee's coworkers will report being happier too. In other words, well-being spreads, much like stress spreads—with more than 50% of employees reporting being "close to burnout" when asked about their stress levels.
In this talk, Nataly shares insights and strategies for a happier workforce. Why? Because happier employees are more creative, more productive, less likely to take time off from work for health reasons, better communicators, and deliver better customer service—resulting in an improved bottom-line for all.
Key takeaways:
Happiness is a practice, comprised of simple scientifically-proven techniques, rather than a vague, spontaneous feeling. Encouraging these practices for employees at work and in their personal lives will dramatically improve their well-being , leading to improved productivity, creativity, teamwork, and engagement.
The most important factor influencing job satisfaction is whether employees find their work meaningful. There are speciic ways to help them connect their jobs to their inner purpose and improve their motivation and performance.
The frequency of positive interactions employees have with their colleagues can dramatically improve how engaged and satified they are with their jobs. There are simple ways to create opportunities for these interactions without dramatic changes or expenditures.
---
The Pursuit of Happier…
Why is the pursuit of happiness so stressful and unfulfilling? Why do we believe that huge achievements trump small everyday moments that connect us with ourselves and those we love most? After years spent chasing "The Big Happy" of career, money and achievements, Nataly explores how the science and research behind happiness can be used to improve all aspects of our lives, showing audiences why we should stop saying "I'll be happy when…" and start saying "I'm happy now because…" Nataly approaches happiness as a clearly-defined practice rather than some spontaneous feeling, sharing with her audiences strategies, techniques, and tools – along with a strong dose of necessary inspiration – to make them part of their own busy lives.
Key takeaways:
Happiness is something we do, not something we feel. It's a capacity we all have, like a muscle, which we can develop through regular simple practices, which have been scientifically proven to improve our well-being and health.
Happiness is not void of all negative emotion. It's a practice of being mindful of how we feel, without judgment, and from that place reframing negative events and committing to the practices of gratitude, kindness, and mindfulness to nurture genuine lasting happiness.
The joy is in the doing. As long as we hang our well-being on the outcome of our achievements, we will always be left wanting and chasing more. We have to learn to cultivate a state of inner wellbeing regardless of our successes, failures, and whatever storms life brings our way.
---
The New Way to Lead at Work
This speech is suited for managers and division leaders who are driving toward specific strategic goals.  In a high-stakes, high-stress environment, creativity, teamwork, and shared purpose become fragile.  How does a leader protect those values which determine the success of a project, and retain the best people for the next project?  How do leaders cultivate purpose, satisfaction and the right environment amid the stress of a project to bring out the best in the team?  The balance might seem delicate, but Nataly explains how happiness helps the team drive faster and better toward shared strategic goals.
Key takeaways:
Psychological safety – the ability for team members to feel like they can be themselves at work, and not risk being reprimanded – is one of the top factors that determines how well a team works together.
The best way to impact change is to model behavior leaders want their teams to adopt. Nataly shares specific ways leaders can do this in the workplace.
Leaders who help remove obstacles for their teams, encourage celebration of small wins, and are honest about their own emotions, including stress, encourage better engagement and performance on their teams.
---
Cultivating Happiness at Work
In this speech, Nataly helps individuals learn how to move their careers forward with optimism, purpose and satisfaction.  She shares her happiness manifesto and gives research-based instruction to make happiness a habit and a regular practice, rather than a vague concept.  She shows how we each have a responsibility to ourselves and our careers to find the positive path in any work environment, and how if we can do that, we make ourselves invaluable to our employees.
---
Fire Up The Awesome
This speech is targeted at women to encourage them to connect to their true purpose, learn how to deal with fear, and move from a position of strength to achieve significant growth and fulfillment in their careers and beyond. Nataly has spent her career in male-dominated industries and doesn't deny that women face significant challenges in the workplace, as well as trying to balance their usually extremely high expectations of themselves with often out of date societal expectations. She offers women audience frank stories, paradigm shifts in thinking, and practical strategies to help them unlock more of their potential without losing their sanity.
Key takeaways:
Cultivating your own sense of well-being isn't selfish. It's the best way you can realize your full potential at work and in your personal life.
Perception of bias is often stronger and greater obstacle than actual bias women encounter in work situations. There are specific ways to learn how to avoid sabotaging your own success.
Don't try to be fearless; that's only possible if you never try anything new. Instead, understand your fear, accept it, and move to a place of love for what you do, trust in your ability to adopt, and commitment to doing what you believe is important.
Testimonials
 "As the keynote speaker at our biggest event of the year, Nataly immediately captivated our audience of entrepreneurial young professionals. Her witty sense of humor, genuine passion for her work, and real world stories gave us inspiration (and many head nods and laughs!). Her positive energy is infectious, and our audience left feeling ready to take their careers to the next level thanks to her unique advice and words of wisdom. I'd highly recommend her as a speaker at any event." Young Women in Digital
---
"Nataly's background and experience on what really drives a happier existence at work & home was very well received.  She brings a lot of credibility to the topic as she is very honest about her own experiences.  It was refreshing to hear.  I can't recommend enough adding an element of Happier to a company event." Gillette