Jim is the world's leading global futurist, trends and innovation expert, with a massive global blue chip client list. Over the last 20 years, more than 2 million people have shared his insight with his events on stage. Jim helps transform growth-oriented organizations into high-velocity innovation heroes! Jim assists in organizations in dealing with the future, trends and innovation through three distinct types of events: As a keynote speaker, panelist, or workshop facilitator. Jim specializes in speaking at corporate round tables with business leaders.
As Jim will discuss, we have seen more change in the last 5 years than we have seen in the last 100 – and yet there is much more yet to come. But with economic, political, career and business model volatility all around us, it's all too easy to fall prey to a swirl of negative thinking — with the result that you lose sight of the fascinating opportunities from what comes next. The best antidote? An uplifting, hopeful and motivational view into the future with futurist Jim Carroll. Also – Jim is always one to stay on the cutting edge of what is coming next – and this includes the next biggest, and potentially the MOST game changing megatrend ever: A.I. 
Jim says we need to be thinking about the BIG future – and those are the A.I. Megatrends that have been transforming entire industries for a while now, but these changes are happening faster now. We have entered what Jim calls the "Era of Acceleration".  Jim has not one but 2 keynotes on this topic, and if you want to know how these changes may affect your business or industry, Jim Carroll's keynotes are not to be missed.
Biography
Jim is one of the world's leading global futurist, trends and innovation experts, with a massive global blue chip client list. Over the last 20 years, more than 2 million people have shared his insight at his events …..clients include NASA; Walt Disney Corporation; PGA of America; Wall Street Journal; DuPont; The GAP; Siemens; Lockheed Martin; Swiss Innovation Forum; Fairmont/Raffles Hotels International; RGA Reinsurance; National Australian Bank; CIGNA; Pfizer; Johnson & Johnson…. topics cover future trends and innovation … sample keynote topic "Think Big, Start Small, Scale Fast: Innovating in the Age of Acceleration" … he has shared the stage at events with Leonard Nimoy ("Spock" of Star Trek), President George W. Bush, Carrie Fisher ("Princess Leia" of Star Wars), Terry Bradshaw of the NFL, Biz Stone (Founder of Twitter), Jimmy Wales of Wikipedia, Astronaut Scott Kelly (last pilot of the Space Shuttle), Buzz Aldrin of Apollo 11, Jack Welch of GE, Roger Goodall, the Commissioner of the NFL, Lee Trevino and Bubba Watson of golf, among others … Jim assists in organizations in dealing with the future, trends and innovation through three distinct types of events: as the opening or closing keynote speaker for the annual meetings/conferences of national or international associations; keynotes or workshops for private corporate leadership events; or keynotes or panel discussions on customer oriented meetings or promotional events…. BusinessWeek on Jim: "a leading source for innovation insight;" CNBC guest expert on innovation; insights also covered by ABC News, INC, Fast Company, the South China Morning Post (Hong Kong), STOrai Magazine (Retail Association of India), The Age (Sydney, Australia), American Way, CAPITAL Magazine (Dubai/United Arab Emirates) CEO Magazine Hungary, Association LEADERSHIP, the National Post and PROFIT. Plus, he's a really nice guy and fun to work with!
Speech Topics
AI Megatrends: Beyond ChatGPT
How AI is Redefining Your Industry, Profession, Company, and Career – And What You Need To Do About It!
The acceleration of AI is not just about the technology; it's not just about ChatGPT; it's about the AI Megatrends! The transformative and disruptive concepts involving such things as predictive diagnostics, autonomous technologies and machine vision, the hyper-connectivity of intelligent devices, the integration of AI into robotics and virtualized digital twin technologies, workforce and process augmentation technologies, virtual knowledge assistants, real-time risk monitoring, product reinvention, and transformation through embedded AI, and so much more!
These are the types of AI Megatrends that you need to understand in order to comprehend how your industry, profession, association, and job and career will change. AI is already causing a massive change in every industry such as: changing the way we diagnose and treat medical conditions; how we assess and underwrite insurance risk using sophisticated AI risk management tools; how we manage our march to precision-farming using AI-driven autonomous technologies; how we are using AI throughout retail and manufacturing for deep supply chain analysis and inventory management.
It's vast, sweeping, transformative megatrends that will continue at a faster pace as we enter the 'era of acceleration.'
Futurist Jim Carroll puts these realities into perspective for your organization in a fast-paced keynote or leadership meeting presentation. A highly customized, industry-specific AI Megatrent overview, based on customized research specific to your industry and organization, and aligned to your unique perspective. It's insight that matters that is relevant and actionable!
What you need RIGHT NOW is highly relevant AI Megatrends guidance from a realistic, strategic business perspective.
Jim will help you understand:
the AI Megatrends that are already underway, and those that are yet to come
the disruptive and transformative context of these trends in your industry, profession, or association, based on up-to-the-minute detailed research specific to your requirements
why the 'era of acceleration' with AI will now challenge all your assumptions about your future
the strategic opportunities that exist with AI within your industry and organization, on a near, medium, and long-term basis
the significant challenges and risks that exist for the same time frame
what leading innovators and competitors are doing to align with these fast-moving trends
what actionable steps you can pursue so you can prepare a concise strategic plan for your organization and team
Futurist Jim Carroll will help you cut through the noise and the hype to understand what is really happening, and the critical nature of the important trends that you must pay attention to!
Keynote 2:
ChatGPT, The Acceleration of Artificial Intelligence and the Arrival of the Personalized Knowledge Butler – Promise and Peril in The Next Technological Transformation
Here's what you need to know – it's pretty certain you won't find your job being replaced by AI, but it might be replaced by someone using AI, particularly with ChatGPT and other similar LLM (Large language model) technologies!
In this fast-moving keynote, Futurist Jim Carroll takes a look at the short-term trends sweeping the world today as ChatGPT and other technologies come to change the nature of the way we search, learn, interact, and think. It's a new era of human-knowledge augmentation through the emergence of personalized knowledge butlers; an acceleration in just-in-time knowledge through on-demand knowledge robots; the arrival of the always-available knowledge servant. The fact is, we are in the midst of the biggest knowledge revolution in the history of mankind since the arrival of the Internet – and it is occurring at a speed that is staggering. You need to cut through the hype, filter the noise, and get a clear – and up-to-the-moment – strategic overview of what is happening in real-time
You don't need to understand how ChatGPT and other LLM ("large language model") systems work – you need to understand the impact they will have. Making sense of what's real and cutting through the hype to discover real opportunities within the trends is one of the most important things you can do! This is not a time to get caught up in 'fast FOMO' – 'fear of missing out' – nor is it a time to ignore the speed of what is occurring. There are significant implications to the sudden arrival of artificial intelligence and other trends, from very real business model disruption to unique legal and copyright issues, education, knowledge, and workforce skills challenges, as well as the emergence of disruptive new industry competitors and accelerated new product development and innovation opportunities. The scope of what these technologies represent is increasing because the pace of their evolution is now moving faster than fast.
What does this mean to you and what do you need to do? Jim will provide you with actionable strategies on how to stay ahead in the AI knowledge race; insight into some of the most powerful tools emerging in this new AI knowledge universe; actionable strategies to continually enhance your just-in-time knowledge skills through AI; and how you can align your skills, attitude and personal motivation factory to align with this new era of high-velocity change.
In this highly customized keynote, is prepared specifically for your company, industry, or association based on up-to-the-minute research.
Jim will help you understand:
the challenges and opportunities behind these trends within your industry and organization
the disruptive impact on your business and operations or upon your industry or association members
the strategies you should be thinking about to align with the new realities they present
the key strategic action plans designed to get your team moving forward, balanced with a realistic assessment of the timing of specific trends and how they will unfold.
Futurist Jim Carroll will help you cut through the noise and the hype to understand what is really happening, and the critical nature of the important trends that you must pay attention to!
KEYNOTE 3
AI MEGATREND: AI IN AGRICULTURE – TRANSFORMING THE WORLDS OLDEST PROFESSION VIA AI
Whether it's driverless tractors, weed-zapping robots, or data-transmitting crops, the future of farming is happening faster than you might think! We're rapidly transitioning into a world of 24-hour farming, no longer restricted to farming only when the sun is up! The arrival of AI provides a future world of farming that is full of promise and peril, opportunity and challenge.
Spending on AI in agriculture was about $2 billion in 2022 but is expected to grow to $75 billion by 2035. Little of this has to do with ChatGPT – and has everything to do with accelerating trends that were already underway in the world of farming. We are on the precipice of a new era of change with precision agriculture, crop prediction, plant disease detection, livestock monitoring, harvest optimization, supply chain management, autonomous farm equipment, and more. And beyond that – a new era of on-demand, at the moment knowledge acceleration as a result of new tools like ChatGPT!
Futurist Jim Carroll – one of the most respected leadership speakers in the world, with clients like NASA, the World Bank, Mercedes Benz, and IBM, will share his insight on the future world of farming in the era of accelerating AI. Over the last 30 years, more than 2 million people on 5 continents have seen his keynote presentations on the future, trends and disruptive thinking.
Jim's ag clients is a veritable list of who's who in the world of ag, including Nurtien, Syngenta, Dupont, Land O'Lakes, Simplot, Elanco, Purina,  Monsanto, the US Department of Agriculture, the United Soybean Board, Reinke, the Texas Cattlefeeders Association, AgFirst Farm Credit Bank, and many more.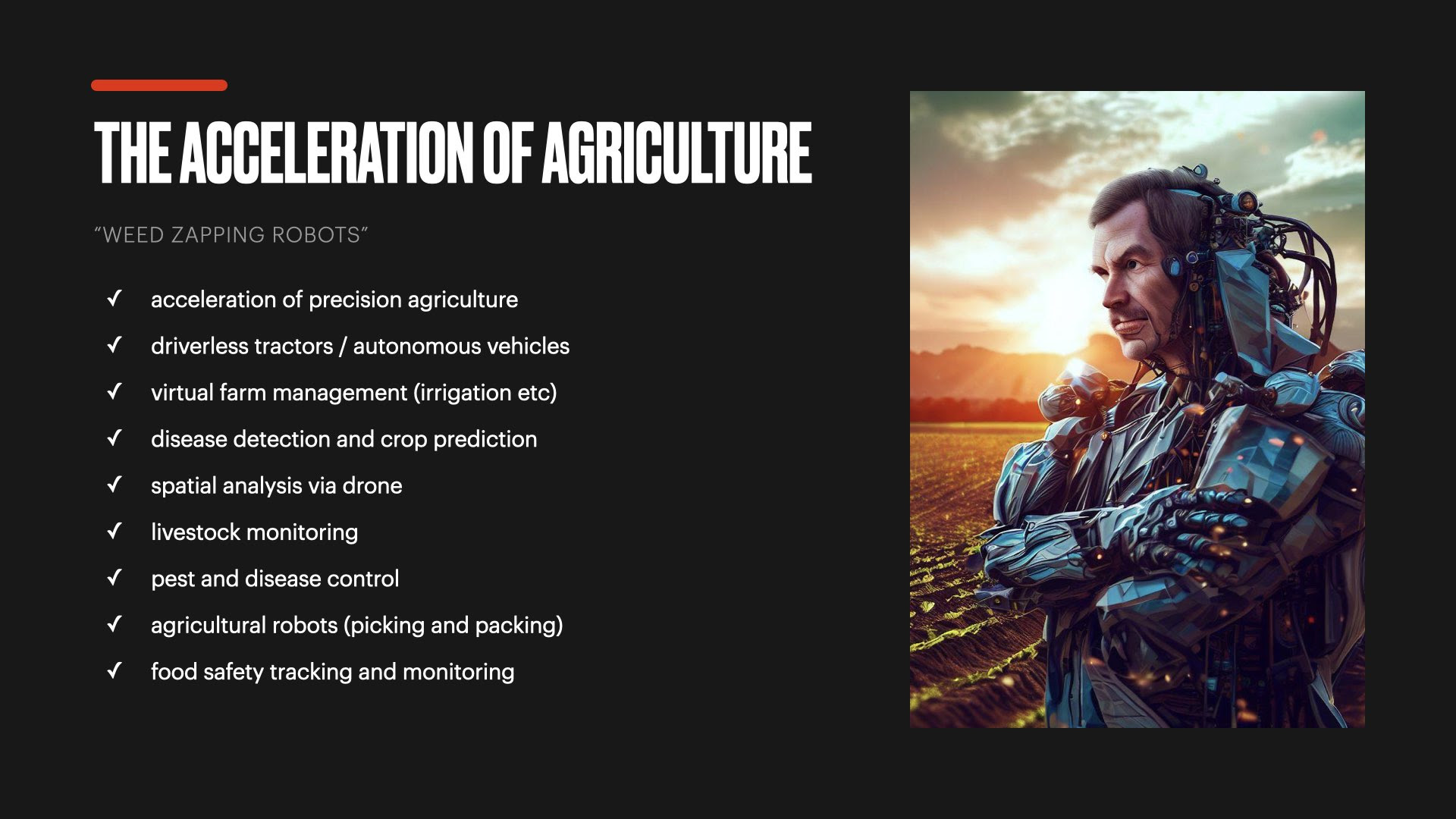 The Lessons of Powerful Optimism: Rethinking the Future Right Now
We have seen more change in the last 5 years than we have seen in the last 100 – and yet there is much more yet to come. But with economic, political, career and business model volatility all around us, it's all too easy to fall prey to a swirl of negative thinking — with the result that you lose sight of the fascinating opportunities from what comes next.
The best antidote? An uplifting, hopeful and motivational view into the future with futurist Jim Carroll. In this engaging, humorous and yet powerfully refreshing keynote, he takes you on a tour of the trends which are reshaping our world in a great way. A renaissance in manufacturing enabled by 3D printing, advanced robotics and massive digitization, self-driving cars, space tourism, asteroid mining, vertical farming, and other fascinating fast paced trends. Opportunities for the transformation of entire industries such as healthcare, sports and transportation through unprecedented levels of hyper-connectivity. The acceleration of ideas with science that are allowing us to solve some of the biggest challenges of our time in the world of education, healthcare, the environment and education. A generation of millennials who know that it is a great time to think big ideas and do great things with their boundless enthusiasm and global awareness.
It's time to turn your mind to the future once again, restore a sense of hope and optimism, and link yourself to the fast paced trends which energize your outlook on opportunity!
The Disruption and Reinvention of Retail: Aligning to the World of Speed
It's hard to discount the speed of change occurring in the world of retail and consumer products, particularly as the global pandemic accelerated the rush to e-commerce. "Shopper marketing," which combines location intelligence, mobile technology, and in-store display technology for a new form of in-store promotion, continues to move forward at the pace of the technology on which it is based. Supply chain volatility and accelerating infrastructure demand require significant investment to continually reinforce operations, at the same time that consumer behavior changes at a furious pace. Logistics has taken center stage with the rapid installation of "click and collect" infrastructure and omnichannel distribution dominating all strategies. Add to this the arrival of active, intelligent packaging and intelligent ("Internet of Things") products, collapsing product life-cycles, rapid product obsolescence, and the implications of all this on inventory and supply chain concepts!

We are going to see more change in the world of retail in the next 5 years than we have seen in the last 100. Savvy brands, retailers, shopping malls, and retail infrastructure companies are working to understand these fast-moving trends, and what they need to do from an innovation perspective to turn them from challenge to opportunity.

Futurist Jim Carroll is known worldwide for helping executives to understand the tsunami of change sweeping every aspect of the sector. In this keynote Jim will put into perspective the latest consumer, technology and marketplace trends and how they will provide new opportunities for disruption, innovation, and business model transformation. Attendees will gain insight into how to tap into these trends and insight to adapt their strategies to a fast-moving future, and how to move forward with an aggressive, action-oriented strategy.
---
The Masters in Business Imagination: Motivational Guidance for the Era of Fast
We will see more change in the next 5 years than we have seen in the last 100. People and organizations are scrambling to align themselves for a new, topsy-turvey world. Jim Carroll comes to the rescue with his keynote, The Masters in Business Imagination which will inspire your team to adopt relentless creativity and innovation as core virtues. Once you 'graduate' from his MBI class, you'll possess the skills common to this critical degree of the 21st century economy.
MBI's see things differently – they don't look at things like most people. MBI's spur creativity in other people – they inspire others to develop similar levels of imaginative thinking. They focus on opportunity – not threat, and realize that action, not inaction, is the driving force for the future. They refuse to accept the status quo and are prepared to eliminate habit. MBI's bring big ideas to life – and paint pictures of where the organization is going to go, rather than focusing on where it has been in the past. They learn and unlearn, forgoing the dangerous assumption that what they know today will carry them into tomorrow. Most important of all, they refuse to say the word CAN'T – they know that barriers, perceived or otherwise, are simply temporary roadblocks that they can get around with fresh insight, imaginative analysis, and creative thinking!
Fire up your enthusiasm, energy and innovation spirt with a unique motivational keynote by futurist Jim Carroll, as he inspires  your team to align themselves to the only degree they will need for the future – The Masters in Business Imagination!
---
The Internet of Things: Disruption and Opportunity in an Era of Pervasive Connectivity 
Every industry is set to be transformed as an era of hyper connectivity becomes the new norm. The result? Massive business model disruption; the rapid emergence of new competitors; industries in which customers empowered with mobile devices control a wide variety of devices that are a part of their daily lives; unique opportunities for deep analytical insight into trends and opportunities emerging in industries; a reinvention of manufacturing, logistics, retail, healthcare and other industries because of consumers that are empowered, connected, and enabled with a new form of lifestyle management that we've never witnessed before.
The Internet of Things is real, and it is unfolding at a blistering pace. We're in the era of connected thermostats that link to an intelligent energy grid and autonomous vehicle technology that is self-aware and networked into sophisticated, intelligent highway flow control systems. A connected trucking fleet that is self-diagnostic and predictive. Intelligent home appliances that link to packaged food products that automatically upload carb, sodium and other dietary information as part of an overall health and wellness program.
Jim has been talking on stage about The Internet of Things since the late 1990's, when he began using the phrase "hyper connectivity" to describe a world in which "every device that is a part of our daily lives is about to become plugged in." Since then, he has delivered his insight on the topic to a wide variety of organizations: several global technology leaders with a keynote talk on the future of home automation; several of the world's largest HVAC companies about what happens when a global, intelligent home and industrial energy infrastructure emerges through widespread connectivity; consumer, food and packaged goods conferences about the impact of intelligent packaging. He has been booked by many leading global health care organizations for keynotes that have focused on what happens when consumers start aligning their wellness strategies through their own personal healthcare infrastructure.
The Internet of Things is a substantive, transformative trend that will provide more change in every industry in the next ten years than they've seen in the last thirty. Jim Carroll already has over a dozen years of on-stage experience with the topic, and can help you understand the strategies, risks and opportunities that you need to be aware of as you move into a hyperconnected future.
---
Healthcare 2020: The Transformative Trends That Will REALLY Define Our Future 

When Jim Carroll began a recent keynote talk for the Minnesota Hospital Association CEO Summit, he announced that he wouldn't even mention health care reform — and the audience of 300 senior executives cheered! Instead, he told the audience that he would take them on a voyage to the world of health care in the year of 2020, and provide them the insight they really need to deal with the challenges and opportunities of the future.
Everyone in a leadership position in the US health care system knows that even with health care reform, the challenges facing the US health care system are substantial and immense. That's why innovation has quickly come to be one of the top issues that senior health care executives and medical professionals are thinking about. There is a realization that there is an urgent need to challenge the very philosophies upon which the system is built. They're seeking insight into the major scientific, technological, consumer and social trends that will, by the year 2020, allow for some very dramatic changes in the concept of health care delivery.
Where will we by the year 2020? We will have successfully transitioned the system from one which "fixes people after they're sick" to one of preventative, diagnostic genomic-based medicine. Treating patients for the conditions we know they are likely to develop, and re-architecting the system around that reality. A system which will provide for virtual care through bio-connectivity, and extension of the hospital into a community-care oriented structure. A consumer driven, retail oriented health care environment for non-critical care treatment that provides significant opportunities for cost reduction. Real time analytics and location-intelligence capabilities which provide for community-wide monitoring of emerging health care challenges. "Just-in-time" knowledge concepts which will help to deal with a profession in which the volume of knowledge doubles every six years. That and much, much more.
The fact is, we are going to witness more change in the world of health care in the next ten years than we have seen in the last 200. For the last fifteen years, Jim has been providing his guidance into future trends to a wide range of global Fortune 1000 companies, associations, and other groups. In his Healthcare2020 keynote, Jim puts into perspective why innovation is no longer just a fashionable phrase — it's the critical new leadership focus for executives in the health care sector. Jim has captivated management teams and health care professionals in keynotes for major US health groups such as St. Joseph's Health System, Blue Cross Blue Shield of North Carolina, Cardinal Health Care, Providence Health, Harvard Pilgrim Health Care, the Association of Organ Procurement Organizations, and the American Society for Health Care Risk Management to name but a few. He was the closing keynote speaker for the 4th Annual World HealthCare Innovation and Technology Congress in Washington DC, which featured a virtual who's who of the health care scene in the US today.
---
The Future of Education: Rethinking Opportunity in the Era of Knowledge Velocity
Sixty five percent of the children who are in pre-school today will work in a job or career that doesn't yet exist. Half of what students learn in their first year at college is obsolete or revised—by the time they graduate. Fifty percent of the US gross domestic product will be taken up by training and knowledge activities within the decade. With all of these changes at hand, futurist, trends and innovation expert Jim Carroll helps some of the world's leading educational organizations and institutions make sense of this rapidly evolving future.
Jim challenges audiences to think about innovation in the education sector that takes on bold goals to deal with a reality that has rapid knowledge obsolescence and emergence, the disappearance of existing careers and the emergence of new careers, an ongoing need for continuous knowledge replenishment and the migration of knowledge generation further away from academia. There's a massively increased challenge from overseas knowledge generation, the fast emergence of new micro-careers, an economy that succeeds through knowledge deployment and a fundamental transformation in the role of educational institutions. In other words: much of the education structure that we have in place today doesn't match the reality of what we really need to do, given the rapid change occurring in the fundamentals of knowledge—which is why innovative thinking in the field of education today is more important than ever before.
In his keynote presentations, Jim provides concise insight that links a wide variety of global, social, demographic, scientific, technological, business and other trends to the impact on education. He provides an understanding on the velocity of change impacting the industry, and why we need to rethink the context of "how we teach" in light of the realities that has knowledge growing exponentially, the foundation of knowledge generation forever changed and global social networks challenging traditional education delivery models. The reality is that the exponential growth of knowledge leads to massive career specialization—we are in the midst of a fundamental structural organizational and career change, and by 2020 or sooner, it will be all about "just-in-time knowledge."
---
Big Trends in Agriculture: What Ag Will Look Like In 2045
Jim Carroll, an agriculture futurist and innovation expert, will look into his crystal ball and predict what agriculture will be like in 2045. Whether it's driverless tractors, weed-zapping robots or data-transmitting crops, Jim will forecast what farms might be like 30 years from now, and encourage the industry to embrace high-velocity innovation. Jim is recognized worldwide as a "thought leader" and authority on global trends, rapid business model change, business transformation in a period of economic uncertainty, and the necessity for fast-paced innovation. You will not want to miss his predictions.
Many people continue to view farming from the sepia-toned photos of the 1940s and 1950s. They don't realize the technological and scientific advances or the massive opportunities for international growth. Growers that focus on innovation as a core value will find success;  their innovation will focus on the triple-feature need for growth, efficiency and ingestion of new science. It will be by adopting new methodologies, products, partnerships and ideas that they will learn to thrive.
Jim is recognized worldwide as a "thought leader" and authority on global trends, rapid business model change, business transformation in a period of economic uncertainty, and the necessity for fast-paced innovation.
Jim has extensive experience with all aspects of the agricultural sector. A good example? He was the opening keynote speaker at a conference of the top 100 cattle ranchers, feedlots and stockers in the US — and thrilled the audience with his insight into global trends impacting the agriculture sector. Based on that event, he was then invited in to inspire 500 cattle ranchers — a very discerning audience — with the feedback that "you certainly challenged us as to the pace of change the future is bringing to our industry, at the same time that you inspired us to embrace it's opportunities. You were outstanding! Ranchers are pretty conservative – particularly here in Texas – but you were the best speaker we've ever had at our event!"
Some of Jim's agriculture clients include the global agricultural powerhouses of FMC Agriculture, Monsanto, Pioneer, Syngenta…. In addition, he has provided keynotes for • CHS  Cooperative • Farm Media Journal •  Texas Cattle Feeders Association • Colorado Cattle Ranchers Association • FCC Services US (Farm Credit Cooperative) • MicroBeef Technologies • Mid-America Crop Protection Association • FarmTech • AgProgress Conference • Agricorp • CropLife Canada • US Department of Agriculture • American Agriwoman Society • American Landscape and Nursery Association • United Soybean Board • and more…. .
His keynotes feature up to date insight based upon extensive research. Jim spent so much time customizing the presentation for one agricultural conference that at the conclusion, one fellow came up and asked him how long he had been a farmer!
---
Moving Beyond the Meltdown: Aligning Yourself for Growth Through Innovation
In the face of widespread economic volatility, organizations have three essential choices: they can panic, making rash decisions on structure, markets, and investments; they can freeze and do nothing; or they can respond to rapid change through innovation, particularly with respect to strategies, structure, capabilities, markets, products, and activities.
Many CEO's and senior executives understand that in addition to managing existing challenges, now is the time to focus on trends and the future, and that they need to act quickly to establish an innovative mindset to get there intact.
Jim shares his insight on the strategies that leading edge organizations are pursuing to stay ahead of the economy.
Through his signature keynote addresses, after-dinner talks, discussions at small intimate management/board meetings, or by speaking and participating in large scale senior management and leadership meetings, Jim provides his unique insight on staying ahead in volatile times. It's timely and critical insight!
---
7 Things You Need to Do Right Now: Aligning the Fast Future to Your Current Strategy
While volatility rocks global markets, there continues to be fundamental truths: your industry, products, competition, skills requirements, organizational capabilities, and ability to respond to rapid change will define your future success. Innovative organizations succeed by mastering the pace of the new high velocity economy.
Product innovations occur today at such a pace that "time to market" is now measured in weeks rather than years. The furious pace of technological innovation continues unabated, with the rapid emergence of new technologies that change entire industries. Customer mindset has become increasingly difficult to capture as we become a society with massive attention deficits. Business models are subject to upheaval due to economic turmoil, commercialization of product, and the rapid emergence of new competitors.
It's a fast paced world — and that's why leading edge organizations are focused on key leadership strategies that provide for a fast paced future. In this inspirational keynote, Jim Carroll will challenge you to confront the "big trends" that you need to face head on and what you should be doing RIGHT NOW.
---
Where's the Growth? Transformative Opportunities for Transformative Times
Where will we be in 2015? 2020 or 2025? What challenges and opportunities will we face? In a world of massive globalization, what will our markets, customers, industries and organizational structures look like?
These are truly transformative times, with an alignment of political leaders, business executives, consumers, researchers and industry groups all realizing that now is the time that we need to solve complex problems with bold thinking and "big ideas." Some of the biggest organizations in the world – including Blue Cross Blue Shield, Toshiba, the Swiss Innovation Forum, the BBC, Motorola and Nestle – have sought just such insight from Jim Carroll. As someone who has assisted hundreds of organizations in thinking about and preparing for the future, Jim has become globally recognized as one of the world's leading international futurists.
In a highly customized presentation, he outlines the major trends that will impact you, and what you need to start doing now in order to respond. He will open up your mind to the opportunities of this transformative time – a new era when big ideas and bold actions are proving to be the foundation for significant transformation in how we approach global challenges, problems and opportunities. In doing so, he will ensure you are well positioned for the future!
---
What's Happening with Our Workforce: Making Generations Work!
Join international futurist, trends and innovation expert Jim Carroll as he explores some of the biggest challenges facing organizations today. With the coming "end of retirement," most companies will come to realize they'll need a lot of telephones with big buttons for members of the 70+ folk who are still a part of their workforce — and a lot of innovative workplace practices as well.
That's but one challenge. The arrival of "Gen-Connect" (also known as "Gen-Y"), the kids who have been wired with a mouse since birth, into the work force will lead to the question of whether "good luck" will be the only possible response to the question of "Managing Gen-Y." This workplace weirdness will only be compounded by the ongoing rapid evolution of knowledge and skills, such that most organizations will find it impossible to find the highly specialized skills needed in the economy of the future. Are we really in an economy in which there is an emerging profession of folks known as "manure managers?" You bet — and it's all part of the unique issues that companies must begin thinking about today.
Jim's unique insight into emerging HR trends is in high demand – 3,000 members of the International Human Resource Information Management Association recently heard him put the issues in context on stage in Dallas, Texas. Join Jim as he shares his insight into the trends that you are already faced with, and the innovative and creative ways that you can come to grips with the depth of the challenges ahead.
Testimonials
 "An outstanding presentation for an industry and association that falls on its traditions so often. We learned that our tradition should not be something that holds us back, but rather the launching pad for innovation for the future. Thanks Jim for your thought provoking presentation!" – 94th PGA of America Annual General Meeting
---
"On behalf of the entire Innovative Technology Partnerships Office, thank you for your engaging and thought-provoking presentation at NASA Goddard Space Flight Center. From the feedback we have received, the event was a great success. Thank you for sharing your insight and expertise with us!" – NASA Goddard Space Flight Center
---
"We were extremely pleased with Jim's presentation… the content was bang-on and would hopefully prompt people to think about the rapidity of change going on in our world!. Jim's storytelling approach really helps to get his points across! He did a great job!" – Walt Disney Company