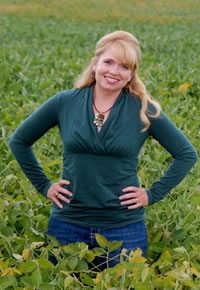 Michele Payn personifies passion. Known as one of North America's leading farm and food advocates, she serves as a resource for people interested in connecting the people and science of food and agriculture. Michele encourages all of her clients and audiences to connect with people's hot buttons and speak their language – whether it's building a connection between farm gate and food plate, developing corporate sponsorships or growing advocacy.
Widely known as a "change agent," Michele delivers advocacy training programs and motivational keynotes to empower organizations to build connected communities; and she measures success in conversations around the food plate by people who are willing to reach out to help make their cause matter. 
Biography
Utilizing her diverse professional experience in the agricultural, sales and not-for-profit sectors, Michele founded Cause Matters Corp., a company designed to build connections around the food plate, in 2001. Cause Matters Corp. focuses on sharing agriculture's story, science communication, social media strategy and growing a food movement. In each of these core areas, MPK helps organizations clearly identify issues, understand their audience and connect solutions. Michele's goal is to help you communicate "why your cause matters" – whether you're a scientist, foodie or in agribusiness.
Agriculture advocate. Science enthusiast.
She knows agriculture because she lives agriculture. She holds degrees in Agricultural Communications and Animal Science from Michigan State University, where she saw science come to life firsthand as a student worker in the animal reproductive physiology laboratory. Michele is past president of College of Agriculture and Natural Resources Alumni Association and had the impact of her work featured in a Spartan Saga. Career highlights include a Regional Directorship for the National FFA Foundation, where she sold over $5 million in corporate sponsorships and led campaigns to develop community support for various Foundation expansions. She has also marketed and sold dairy genetics to more than 25 countries, managed e-business accounts and presented training programs in developing countries. Michele still holds her firsthand farm and science experience as the best contributor to her work.
Speech Topics
Translating Farm to Food
How can you move beyond advocacy?
Have you looked into agriculture's future? Who will be making decisions about how farmers are allowed to take care of our land and animals? Not agriculture, if we can't learn to meet at the intersection of farm and food. Sharing your farm, ranch, or agribusiness story is great, but it's time to go beyond advocacy. Do you have what it takes to translate today's agriculture to grocery shoppers?
Michele just completed her second book, Food Truths from Farm to Table: 25 Surprising Ways to Shop & Eat Without Guilt. The book addresses myths throughout the grocery store to bring clarity and common sense to the food conversation. She embedded 25 food truths throughout the book to translate how food is grown, why modern practices are used and how marketing is misleading food buyers. The book includes stories of 50+ contributors to translate the science of today's agriculture on a human level.
All can benefit from taking their skills to another level. Advocacy and telling a story are wonderful but can be rather one-sided. Translating what happens on today's farms and ranches is key to connecting at a heart level. This eye-opening keynote or training will help your audience learn:
Tips to distill technical issues such as animal welfare, GMOs, antibiotics, food safety, pesticides and hormones into simpler conversations.
Techniques to translate the complex business of growing food, fuel, feed and fiber in real-life communications.
Advanced methods to communicate why food is grown the right way by the right people for the right reasons.
Leadership skills in the conversation around farm and food as a best business practice.
Ways to easily integrate these skills across social media channels.
---
Authentically Agriculture: Connecting on a Human Level
Agriculture isn't just your work, it's who you are.
Or is it? Now is the time to translate the agriculture world to the non-ag folks and YOU are the one to do it. It's also time for us to take responsibility for not communicating about what's happening on today's farms and ranches – which means we must relate as humans.
You have the opportunity to connect on common values, regardless of who is on the other side of the conversation. MP's new program is filled with examples of standing in 100% authenticity for agriculture. She'll help you find a way to "go beyond the choir" and connect with people who can still be influenced through conversation. Michele's "agversations" with moms, CEOs, children and media come to life with her humorous look at agriculture's messages. This program will show you how to:
Connect on common values – shared interests and results
Provoke interest and let others learn from your  personal experiences and stories
Create "agversations" with those within and out of the agriculture to spread your message
Share what is happening on today's farms
Discover how to be casual yet influential in conversation rather than defensive
Help others understand the importance of ag issues –become more comfortable discussing issues with others
Interpret the journey from farm to plate with your own stories
Learn how Michele talks about ag issues to non-aggies comfortably, meaningfully so you too can become a compelling storyteller
Audience members will be inspired to take a hard look at "who am I",  consider "what does that mean to others" and then take actionable steps through "how do I translate agriculture to something meaningful for others." Michele is known for lighting a fire under farmers, ranchers and agribusiness people  – this program is designed to help your meeting attendees understand how to relate on a personal basis, as one human to another.
Learn from Michele's experiences discussing food, fuel, feed and fiber with parents, foodies, influencers, international audiences, friends and nutrition professionals. She'll give you freedom to be authentic even when you're not "talking shop" with people who share your same background. MPK is often asked "How can I be in a situation that's unrelated to agriculture and still share my message?" This memorable program gives the answers – and grows your comfort level, confidence, and clarity.
Typical audience outcomes:
Use your strengths to comfortably reach beyond the choir
Find more voices in a bigger, more robust conversation about agriculture
Identify new tools that allow you to practice the conversation with a variety of non-ag people
Gain confidence in high risk situations to deliver results
When you're ready to allow people the opportunity to connect on a human level,contact MPK to help you translate farming to food in a meaningful way.
---
Celebrating Agriculture Keynote
Celebrate the People, Promise and Passion of Agriculture
When you're ready to stand up andcelebrate the people, promise and passion in our business,bring Michele to your meeting. You will laugh and cry while celebrating work from the farm gate to the consumer plate. Fill your room with energy and unmatched passion for the agrifood business– MP is known for lighting up audiences and leaving an imprint on their heart.
Michele's keynote is filled with poignant moments from her life on the farm, lessons from working with farmers from over 25 countries and how to really make a connection that impacts the future of agriculture. She'll even incorporate kickboxing moves and throw in audience humor as they join her on stage. This memorable keynote will help you understandhow to lead through the significant changes facing agriculture in the 21st century and leave a legacy for your business.
When you attend Celebrating Agriculturepresentation, you will:
Consider thought leadership in the conversation about food, fiber, fuel and feed
Understand the necessity of proactive positioning for agriculture
Learn to leverage trust to protect your bottom line
Identify ways to more effectively connect with key influencers
Find the power of emotions in connecting with other humans
Outcomes:
Inspiration for agriculture from one of their own
Tools to better understand how to communicate about our business
Ways personal legacy can drive your leadership in agriculture
Grasp of speaking the same language as the 98.5% of the population not on a farm.
Not only will Michele's lifelong passion and background in agriculture keep your audience on the edge of their seats, Michele's interactive style gets them out their seat – both at your meeting and back at home.
Testimonials
With Michele's guidance, our science community learned to make their science meaningful on a personal level. Thanks to Michele we are better prepared to have important conversations about agriculture and science.
Genome Prairie
---
 The Agri-Business Council of Oregon hired Michele to present a keynote speech at our 2012 Annual Membership Meeting, as well as to facilitate a fundraising workshop with my Board of Directors. She did a fantastic job connecting with both audiences in a way that was entertaining, educational and functional. Her passion for agriculture is true to her heart, and you can see how much it means to her when she speaks. She was worth every penny.
Agri-Business Council of Oregon
---
 Your "Celebrating Agriculture" presentation was very well received.  Participants certainly benefitted from your experience to become a source of information to educate friends, neighbors, consumers, etc. about farming and speak up for the industry.  Building relationships – one hour, once a week to champion agriculture was a great message to leave  the group with.  Your presentation was educational and informative!
COGA, British Columbia, Canada
---
 Michele was Alpha Zeta's keynote speaker at the National Agricultural Leadership Conference and also presented a workshop to the attendees. She did a phenomenal job. Not only was she engaging in her presentation style, but she also presented great information and ideas on how Alpha Zeta members can improve the perception of agriculture in a way that resonated with the students. Alpha Zeta hasn't had a speaker like that in quite awhile.
Drake & Associates
---
 Michele's presentations "Championing Agriculture" and "Responding to the Rhetoric: Overcoming Activist Claims" were the highlight of our National Corn Grower's Association (NCGA) meeting. Many of our attendees, which included state association staff and grower recruiters, came away from the meeting impressed and energetic about their industry. The six and one-half points to remember when championing agriculture resonated very well and are used by our attendees in their membership recruitment and community relations efforts.
Wow! Dynamic, enthusiastic, energetic right on target, and exemplary are just a few ways to describe Michele and her talents. The custom designed workshops and general session that Michele provided were incredible.
American Farm Bureau Federation
---
 It is rare to have a person customize their efforts to our precise needs the way you do…I would have to recommend you to anyone that is really serious about strengthening his or her customer skills work with you. Your ability to identify needs and help a staff develop their own solutions is the best I have seen.
Eastern Michigan Grain
---
 Thank you for touching our hearts, opening our minds and literally letting us kick up our heels.
Wisconsin Association of Fairs
---
 Michele, your presentation on championing agriculture provided solid suggestions for how participants can approach the communications challenges they constantly face… you took an issue that's very near and dear to their hearts, yet very general, and gave them practical steps and tools for creating high-impact messages for specific audiences.