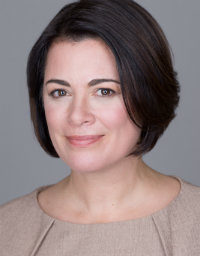 Col. Nicole Malachowski, USAF (Ret.) defies stereotypes. Yes, she was a jet fighter pilot, but if you think you know her based on that, you'd be wrong. A leader, a combat veteran, the first woman pilot on the Thunderbirds Air Demonstration Squadron, a White House Fellow, and an inductee into both the National Women's Hall of Fame and the Women in Aviation International Pioneer Hall of Fame, Nicole's distinguished 21- year Air Force career exceeded her wildest dreams. But the dream came to an end when a devastating tick-borne illness left her struggling greatly to speak or walk for almost nine months. An indomitable spirit, Nicole fought back against overwhelming odds and prevailed. Drawing on stories from her career and personal life, Nicole inspires audiences to rethink the challenges they face every day. She urges them to go beyond resilience and become resurgent. Nicole empowers people with three key beliefs: failure and risk is the price of entry for achieving something great; sometimes you need to yield to overcome; and her personal mantra – "Nobody wants to lead a scripted life."
In her speeches, Nicole inspires audiences with lessons from her experience that can be tailored to meet program objectives.  Nicole brings her experience to the stage and holds audiences spellbound with an easygoing authenticity of someone who's achieved greatness. She's been a member and leader of exceptional teams. She has faced overwhelming challenges and adversity and has come out on top. When Nicole's distinguished military career was cut short by a neurological tick-borne illness that, at its worst, left her unable to walk safely or speak intelligibly, she overcame those challenges, as well.
Biography
A 21-year veteran of the U.S. Air Force, Col. Nicole Malachowski (USAF, Ret.) wanted to fly military jets from the moment she saw them at her first air show at five years old. She achieved that goal – and then some. A leader, a combat veteran, the first woman pilot on the Thunderbirds Air Demonstration Squadron, an instructor, a White House Fellow, and an inductee into the Women in Aviation International Pioneer Hall of Fame, Nicole's Air Force career exceeded her wildest dreams.  
In her speeches, Nicole inspires audiences with lessons from her experience that can be tailored to meet program objectives.  Nicole brings her experience to the stage and holds audiences spellbound with an easygoing authenticity of someone who's achieved greatness. She's been a member and leader of exceptional teams. She has faced overwhelming challenges and adversity and has come out on top. When Nicole's distinguished military career was cut short by a neurological tick-borne illness that, at its worst, left her unable to walk safely or speak intelligibly, she overcame those challenges, as well.  
While other high school students were practicing for their driver's licenses, Nicole was accumulating flight time – she was sixteen years old when she took her first solo flight. While in high school, she joined the Civil Air Patrol and participated in Air Force Junior ROTC. Nicole's professional story began when she earned her commission from the United States Air Force Academy in 1996. Following graduation, she attended Undergraduate Pilot Training (UPT) at Columbus AFB, MS and began her career as a pilot. Competitively selected to fly combat aircraft, she was among the first group of women to fly modern fighter aircraft. She served in combat as an F-15E Flight Commander, Evaluator, Instructor Pilot and Flight Lead. Over her 21-year career, Nicole achieved the rating of Command Pilot with over 2,300 flight hours in six different Air Force aircraft. She was also selected to fly as Thunderbird #3 with the USAF Air Demonstration Squadron – the first woman to fly on any Department of Defense military jet demonstration team. Colonel Malachowski has served as a mission ready fighter pilot in three operational F-15E fighter squadrons and has flown over 188 combat hours, including her proudest moment as a fighter pilot: leading the first fighter formation to provide security for Iraq's historic democratic elections in 2005.
On the ground, Nicole was a White House Fellow, class of 2008-2009, where she served on the Presidential Transition Support Team (PTST) while assigned to the U.S. General Services Administration. She has served two high-level staff assignments at the Pentagon – one in the Office of the Secretary of Defense (OSD P&R) as well as the Secretary of the Air Force Office of International Affairs (SAF/IA). She also served as the Executive Director of the White House's national 'Joining Forces' initiative where she directly advised former First Lady Michelle Obama and Dr. Jill Biden on all topics relating to service members, veterans, and military families to include employment, education, mental health, veterans' homelessness and more.
Nicole's operational F-15E assignments include two tours of duty at RAF Lakenheath, United Kingdom as well as one operational assignment to Seymour Johnson AFB, NC. She has also served alongside the United States Army 2nd Infantry Division, Camp Red Cloud, Republic of Korea, as an Air Liaison Officer. During her second assignment to Seymour Johnson AFB, NC, she had the honor of commanding the 333rd Fighter Squadron, leading an elite cadre of F-15E Instructors in the training of the next generation of combat aviators. Further, she was responsible for resources totaling over $1.1B and the execution of a $119M annual flying hour program.
Nicole earned a Master of Arts, with honors, in National Security Policy from American Military University and a second Master of Arts, with highest distinction, in National Security and Strategic Studies from the U.S. Naval War College. While there, she earned the Admiral Stephen B. Luce Award as the class honor graduate, the first Air Force officer in the history of the Naval War College to do so. Nicole has been recognized with several honors for her consistent contributions to community service. As Nicole continues to recover from her neurological tick-borne illness, she embraces any opportunity to educate others about her medical journey and gains energy from educating others about this growing epidemic. She is on the Board of Directors at the LivLyme Foundation and is a Patient Advisory Board Member of The Dean Center for Tick Borne Illness.
Colonel Nicole Malachowski (USAF, Ret.) was born in Santa Maria, CA and graduated high school in Las Vegas, NV. She and her husband Paul have twin children; son Garrick and daughter Norah. Paul is a retired Air Force Lieutenant Colonel and former F-15E Evaluator Weapons Systems Officer.
Speech Topics
Conquering Fog and Friction: Leading Through Times of Crisis
"No war plan survives first contact with the enemy" is a truism. In the military, leaders must acknowledge and address the fog (things we can't see, know, or predict) and friction (the forces which impede progress) of war. In such times, effective leadership is more crucial than ever. Using the challenges and uncertainties of combat as a metaphor for organizational challenges, Nicole stresses perspective, priorities and positive leadership as she provides tools for leaders to use in times of crisis—or anytime—to keep their organizations successfully moving forward.
Nicole Malachowski offers leaders a framework to lead through fog and friction in times of crisis.
-How to proceed regardless of the unknowns your organization facing
-How to maneuver around or through impediments to your organization's progress
-Understand the leadership challenges that are unique to times of crisis
-Keep focused on your purpose; perspective is critical to manage risk and adapt
-Positivity and calmness are essential. Instill confidence; don't add to the chaos
Harnessing Headwinds of Change – Successfully Navigating Change & Adversity
Leaders across every industry and experience level share one thing in common: To be successful they need to effectively navigate failure, organizational change, and the unknown. Like headwinds to a pilot, these perceived barriers can force you to change direction, cost you momentum, and even take away options. These headwinds can feel confusing, disorienting, and downright uncomfortable. In this talk, Nicole Malachowski uses the aviation-based idea of headwinds as a metaphor to show how with the right mindset, individuals and teams can learn to harness the energy of these headwinds in their advantage.
Nicole inspires individuals and organizations and bolsters their ability to:
-Overcome personal and professional failures
-Effectively navigate organizational and cultural change
-Endure the discomfort of the unknown
-Increase resilience, reinvention, regroup, and adaptability
-Have courage to rise above self-doubt and cultural paradigms
-Support and mentor others on the team
---
PUSHING THE ENVELOPE – BEING THE BEST WHEN IT COUNTS
To be successful, leaders from every industry and experience level need to effectively navigate moments of self-doubt, master the role of a trustworthy team player, and embrace moments of personal and professional vulnerability. Using the idea of an aircraft performance envelope as a metaphor, this elite fighter pilot and military leader will share inspiring personal stories and practical tools to ignite individuals and teams to reach beyond commonly-assumed limitations to achieve their maximum capabilities and impact. Nicole Malachowski's presentation will bolster the ability of individuals and teams to:
Overcome self-doubt that often inhibits personal and professional growth
Model the selfless trust needed to be an effective teammate
Practice vulnerability and transparency to build trust and galvanize teamwork
Build accountability, dependability and reliability that drive performance
Break down silos to unleash creativity and adaptability
BREAKING BARRIERS – CONQUERING SELF-DOUBT AND CULTURAL PARADIGMS
Everyone faces barriers, both personal and professional, that may appear to place limits on what's possible. When people pursue only what is expected, accept cultural norms that hold them back, and view barriers that appear unsurmountable, their personal and professional lives become limited—scripted. A powerful trailblazer herself, Nicole Malachowski reminds audiences to not let others draw their boundaries, and to break tradition with grace and purpose. She inspires people to see obstacles and challenges as opportunities to grow—a chance to reach new levels of personal and professional excellence.
Nicole delivers actionable insights for pursuing dreams, making choices, and living an unscripted life.
Define your own possibilities and overcome self-doubt
Reevaluate traditions, paradigms, and overcome limitations
Welcome challenges to the status quo
Why having the courage to ask for help is key to, reaching your potential
Acknowledge the work-life balance myth
THE MACH 2 MINDSET – DECISION-MAKING IN A HIGH-SPEED ENVIRONMENT
One popular pilot saying is "speed is life," because without enough speed, an airplane is nothing more than an expensive rock. In the business world, especially when technology is involved, speed can be just as crucial. The organization that moves the fastest often realizes the most success. Having flown a high-tech fighter aircraft that can reach speeds of up to twice the speed of sound, Nicole Malachowski offers principles that keep any organization functioning smoothly, efficiently, and at high speed, even when chaos and the unexpected occur. Nicole's insights help leaders create a culture where decisions get made quickly.
Assess the dynamics that slow your organization down
How turmoil in your operating environment slows you down
How does a need for speed impact decision-making
Trust, clear roles, and communication are vital to navigate the unknown at speed
Practice, planning, and preparation underpin organizations that move quickly
Testimonials
"We can not thank YOU enough for bringing your inspiring, moving, profound, vulnerable, INCREDIBLE story to our team. If your ears have been ringing it is 120 people saying you were the absolute highlight of the whole offsite. And many told me you were the BEST speaker they have ever heard. [And these people hear a lot of speakers.]"
– Training Manager, Genentech
---
"We were already excited to hear Nicole speak because of her impressive bio, but her presentation still blew us away. She has a compelling personal as well as professional story to tell.  And she does it with a passion and vulnerability that create a strong connection with her audience. Five minutes into her presentation, you could tell that she had our group hooked. Nicole creates a three-dimensional experience for her listeners – we had the sense that we were with her in the cockpit of her fighter jet as she recounted experiences of flying with the Air Force's Thunderbird team.  Her presentation resonated so deeply with our audience that people are still talking about her presentation a week later and employees who could not attend are asking to see the video of her presentation. Nicole is professional, organized, timely, and an all-around pleasure to work with. She was thoughtful in researching our organization and event so she could craft her discussion to fit our audience."
– Investments Director, Fundamental Equities, Invesco Advisers, Inc.
---
"Most of us will never lead a squadron of F-15E fighter pilots, fly right wing for the USAF Thunderbirds or have our careers transformed as a result of a tick bite. But your storytelling took us there for a brief moment and the lessons they represent—failure and risk are the price of entry for achieving something great; plow your own path; nobody wants to lead a scripted life; etc.—resonate in a way that can change lives, personal and professional. You are one of the most engaging and effective speakers I have come across—a humble force that touches people emotionally. Without question, you presented exactly the message we wanted to share with our elite performers."
– Chairman and CEO, SunTrust Banks, Inc.
---
"Col. Nicole Malachowski took our financial professionals by storm – three weeks later, people are still talking about her. She has a unique gift of being able to relate her very interesting and exciting professional and personal life experiences to a diverse audience in a completely different profession. Her genuine conversational style made each attendee feel she was talking directly to them."
– Treasury Management Association of New York (TMANY)
---
"Nicole was exceptionally well received. She—truly—did a magnificent job. Connected with the audience, inspiring, thought-provoking, funny, real, open. Our colleagues couldn't stop talking about it. Was the highlight of our event."
– UnitedHealth Group
---
"Rarely have I found an entire room of business colleagues all so incredibly inspired and engaged by one speaker!  Nicole's story has the power of relating to all businesses as well as the individual journeys we are all on. Nicole's compassion, determination and kind spirit shine through in every aspect of her presentation.  The outpouring of support, after two standing ovations and many tears, made it clear her message resonated with everyone in attendance. We look forward to Nicole joining us for future conferences and highly recommend her for anyone looking for a truly exceptional experience!"
– CEO of Cetera Financial Group
---
"I have had the pleasure and burden of hosting speakers for major corporate and client meetings (40-7000 attendees) for the last twenty years. I refer to this part of my work as a burden only because when you chose a speaker who doesn't hit the mark, it can have a significant impact on the experience, efficacy and ratings of an event. But when you chose well, it's magic. I'm writing to you today to let you know that you, Nicole Malachowski, are magic! You are easily in my "top-5 of all-time"! In addition to be an excellent public speaker in manner, tone and approach, your presentation was stunningly inspiring, moving and motivational. And it wasn't just a feel good session.  Every person in the room left with business and life-tools to use and share. But most of all, each and every one of us left the room with a more grateful heart. For me, this is the home run of home runs as we attempt to bring some light to the lives of our employees and clients. Thank you for being the amazing woman and role model you are, for your service to our great country and for sharing part of yourself with us. I, too, wish you blue skies and tail winds."
– President, First Allied and Cetera Advisors
---
"Colonel Nicole Malachowski recently spoke to the senior leaders in my company and did an outstanding job. In fact, I cannot recall another speaker where there was such high universal praise. She is inspiring, authentic, energizing, and a true American hero. More than a week later, there is still abuzz in the organization and I have zero doubt her remarks will leave a lasting impression on our team to embrace headwinds and navigate change more successfully."
– President and CEO of Strayer University, Inc.
---
"I was at the Strayer retreat this past week, and wanted to express how much your presentation meant to me. I'm sure you get this a lot, but your stage presence is amazing but your message is life-changing. You may not know how many people in each of your audiences are affected, but I can assure you that your message spoke to me in a time of need and I just wanted to share my appreciation. I so appreciate your story and how you are so blessed to connect with others."
– Strayer University Attendee
---
"An indomitable spirit whose life journey adds such warmth and depth to her powerful message. She is relatable to women and men with a fascinating narrative of overcoming trials and tribulations all while being an unwitting trailblazer in aviation, in leadership, in social awareness and in medical care"
– VP, Advanced Technology Demonstration Center, Northrop Grumman
---
"A very special thank you for your incredible keynote at our team meeting this week. You touched my team with your brilliant and meaningful storytelling and have inspired them with your leadership and very practical tips on how to manage headwinds. You captivated their hearts and minds—and it was exactly the kind of closing I wanted to end our week of planning sessions. I know you are going to have an amazing career as a speaker as my team like me was thinking of how and where we need to have your message in our programs and will be recommending you to their network of colleagues and friends in the industry."
– SVP, CMO | Marketing and Sales, Best Western® Hotels & Resorts
---
"You are a spectacular speaker and I have never been to a meeting with our entire team mesmerized by anyone like they were with you. Your story is unbelievable and you are able to deliver it in such a natural and powerful way that had me in awe for days after. I haven't been so motivated or inspired by anyone in a long time."
– Director | Marketing Activation, Best Western® Hotels & Resorts
---
"Nicole, thanks again for joining us in Wilmington! My team couldn't have been more pleased to work with you. Your message of perseverance, determination, and overcoming roadblocks was incredibly moving and inspiring. Our group of hoteliers and developers embraced your courage, and your path resonated with the myriad of challenges we face in our industry. I was especially impressed when you joined us the day before, sat through our meetings, got to know various people, and mentioned them during your talk! I have to say that never before have I had our group rise and give a standing ovation to a guest speaker and then be asked to return to the stage for ongoing applause!"
– Executive Vice President, Human Resources, PM Hotel Group
---
"Days later I am still thinking about you and the unforgettable talk you gave to close our leadership conference. To say it was the highlight of an already exceptional conference would simply be an understatement. You touched so many people with not only your story, but the very essence of who you are as human being. You are a unique mixture of charm, vulnerability, humble strength and resilience…many of us in the audience, including myself, aspire to be more like you. You left us all with the gifts of inspiration and motivation…exactly what we needed to end a conference that was focused on driving performance and connections."
– Event Planner, PM Hotel Group
---
"… it was the best, most inspiring, heartfelt and meaningful speech I heard all year.  Even though I have never flown a jet, given birth to children, or had to deal with a tick-borne illness, you effortlessly translated your words and stories on resilience and dedication into the challenges we face every day.  Keep telling your story, it was a pleasure to hear."
– Senior Vice President Commercial Operations, BPG|360
---
"During our time together Nicole Malachowski and I traveled across the country to visit and speak with our regional personnel.  She shared her unique background, her experience, challenges she faced, and lessons learned over two decades of serving our country. At every stop the reaction was overwhelmingly positive. Her unique ability to connect with each and every member of the crowd was impressive. Each individual believed she was talking directly to them and all attendees left walking a little taller. If you are looking for someone to motivate and inspire your audience you cannot do better than Nicole Malachowski. And I'll bet you might walk a little taller, too."
– Deputy Administrator, U.S. General Services Administration